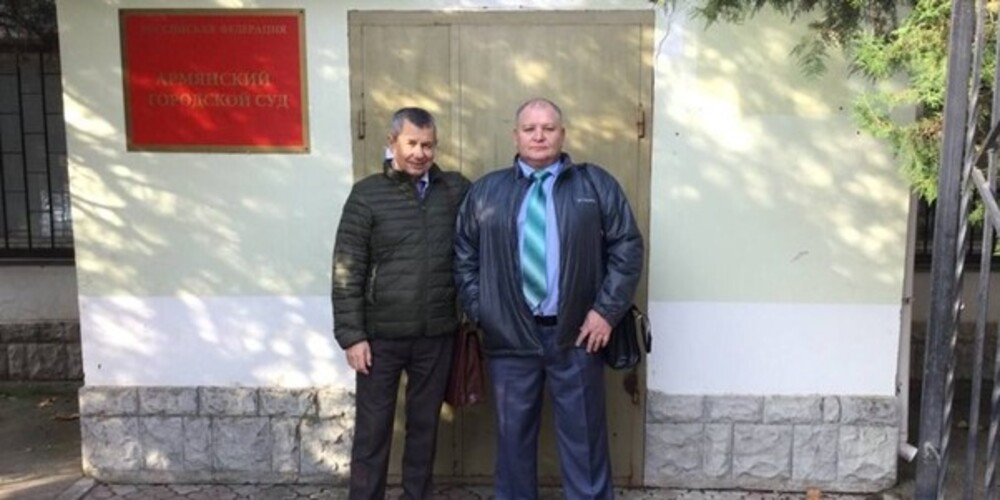 The Russian-controlled Armiansk city 'court' in occupied Crimea has sentenced two Jehovah's Witnesses - 62-year-old Oleksandr Lytvyniuk and Oleksandr Dubovenko (49) to six years' imprisonment in a medium security prison colony purely for practising their faith. The prosecution's chief 'evidence' in this shocking new example of Russian religious persecution on occupied territory was a Zoom conference discussing the Bible.
Russia has used its increasingly compliant Supreme Court to pretend that its prosecutions at home and in occupied Crimea are not religious persecution. On 20 April 2017, the Supreme Court outlawed the Jehovah's Witnesses by claiming them to be an 'extremist organization'. You can thus imprison men for reading and discussing the Bible and sharing their beliefs with others by simply claiming, without any evidence, that a recognized world faith is 'extremist'. Russia is in particularly grave violation of international law in that it is using its flawed legislation to imprison Ukrainians in occupied Crimea for religious practice which is legal in Ukraine and all democratic countries.
On 5 August 2021, armed searches were carried out in the homes of six believers in occupied Armiansk. This appears to have been a few days after the charges against Dubovenko and Lytvyniuk were initiated by Vitaly Vlasov, a Russian FSB 'investigator', who has been involved in numerous cases of political or religious persecution. Lytvyniuk was detained at the time of the search and then placed under house arrest. Dubovenko was not at home when the armed enforcement officers arrived and was detained later, with a second search then carried out and Dubovenko also placed under house arrest. Both men remained under house arrest for over a year. They were accused of 'organizing the activities of an extremist organization' (under Article 282.2 § 1 of Russia's criminal code) via their organization of a Zoom conference which Vlasov and the prosecution claimed was to "attract new members of a banned organization'.
After the six-year sentences, demanded earlier by prosecutor Minigul Saldykova and obligingly provided on 1 December 2022 by 'judge' Tatiana Fiedievna both men were taken into custody. The sentence also included a ban on educational activities as well as involvement in any publications in the press for five years, and a subsequent one-year term of restricted liberty. The sentences are not final, and will certainly be appealed.
According to the Crimean Process human rights initiative, the entire 'trial' was (illegally) held behind closed doors, with the believers who invariably come to such 'trials' thus prevented from attending. There had been 42 hearings since the 'trial' commenced on 2 April. The specific charges speak for themselves with the men accused of having organized and held, as a group and according to prior conspiracy, meetings and religious addresses, the study of the material, and the attracting of new members to the religious organization, the Jehovah's Witnesses, whose activities had been banned in Russia and occupied Crimea.
Oleksandr Lytvyniuk (b. 1960) is a pensioner who worked for many years in state enterprises and factories. He and his wife Nadiya have three children, two sons and a daughter. Oleksandr Dubovenko (b. 1973) originally worked as a fitter-welder, then as an electrician. He and his wife Iryna have an adult daughter.
The Jehovah's Witnesses' website reports that, during one of the hearings, a elderly and seriously ill witness rejected the testimony which the investigator claimed she had given. She stated in addition that she did not know Dubovenko and had not been present at any services with him.
During his final address to the 'court', Dubovenko pointed out that the prosecution had acknowledged that there were no aggrieved parties in this 'case'. He said that the activities which were wrongly claimed to be 'extremist' and criminal constituted only the exercising of their constitutional right to freedom of religion.
Although Russia had been persecuting the Jehovah's Witnesses for well over a decade, and imprisoning them since the notorious April 2017 Supreme Court ruling, it took the European Court of Human Rights until 7 June 2022 to issue its judgement, finding Russia's ban of the Jehovah's Witnesses to be unlawful and ordering the release of all those imprisoned for their faith. The judgement in the Case of Taganrog and Others vs. Russia was unequivocal, but belated, and coincided with the adoption by Russia's State Duma of an illegal bill which backdated Russia's withdrawal from the European Court of Human Rights to before the judgement.
Persecution in occupied Crimea
17 criminal proceedings have thus far been brought against Ukrainians in occupied Crimea. Whereas in Russia, a considerable percentage of 'trials' end in suspended sentences, in occupied Crimea virtually all such judicial travesties have ended in real sentences of six years or longer.
Serhiy Filatov (b. 1972) was arrested during a 'mass operation' against believers in Dzhankoy from 15-16 2018. His 'trial' took place in the Russian-controlled Dzhankoy District Court, with the prosecution claiming that Filatov had "undermined the foundations of the constitutional order and the security of the state", by being the leader of a religious organization. On 5 March 2020, he was sentenced by 'judge' Maria Yermakova to six years' imprisonment in a medium security prison colony. That sentence against the 47-year-old father of four was then upheld by 'judge' Edward Belousov of the Crimean High Court on 26 May 2020. Belousov is one of eight 'judges' and enforcement officers recently placed on the EU's sanctions list.
Artem Gerasimov (b. 1985) from Yalta was arrested on 20 March 2019 during a second wave of armed raids on Jehovah's Witnesses in occupied Crimea. It seems likely that it was because of Filatov's sentence on the same day, that 'judge' Vladimir Romanenko from the Yalta City Court initially 'only' imposed a massive fine on Gerasimov, unlike the 6.5 year real sentence demanded by prosecutor Oksana Chuchuyeva. The fine was challenged by the prosecutor, and it was that appeal which the 'High Court' on 4 June allowed, imposing instead a six-year sentence.
Viktor Stashevsky (b. 1966) is a father of two from Sevastopol, and was also caring for his elderly mother. He was sentenced by the 'Gagarin District Court' on 23 March 2021 to six and a half years' imprisonment on the same 'organizing extremist activities' (Article 282.2 § 1 ) charge, and taken into custody in the courtroom. The 'judge' in the case was Pavel Kryllo who has been involved in at least one other politically-motivated sentence (against Ihor Movenko). The sentence was upheld on 10 August 2021 by 'judge' Vladimir Avkhimov from the occupation 'Sevastopol Municipal Court'.
Igor Schmidt (b. 1972) is one of four believers from Sevastopol who were arrested and remanded in custody after armed searches on 1 October 2020. He, Yevhen Zhukov (b. 1969); Volodymyr Maladyka (b. 1963); and Volodymyr Sakada (b. 1970) were all charged with 'organizing the activities of an extremist organization' charge under Article 282.2 § 1/ Schmidt was 'tried' alone and sentenced on 22 October 2021 by 'judge' Lyudmila Petrovna Tumaikina from the Gagarin District Court to six years. That sentence was upheld on 17 January 2022.
Almost a year later, on 6 October 2022, Volodymr Maladyka, Volodymyr Sakada and Yevhen Zhukov were all sentenced to six years' imprisonment by 'judge' Olga Berdnikova from the Russian occupation Nakhimovsky District Court in Sevastopol.
Artem Shabliy (b. 1990) was only charged with so-called 'participation in an extremist organization' (under Article 282.2 § 2) after the armed searches of his and three other homes in Kerch on 26 May 2020. Shabliy's 4-year-old son sustained injuries from the window pane which the officers broke, quite unnecessarily, during their armed storming of the building.
On 16 February 2022, Shabliy received a two-year suspended sentence.
Five believers from occupied Yalta
On 4 April 2022, 'judge' Vladimir Romanenko from the Russian occupation Yalta City Court' began hearings into the charges against Taras Kuzio; his wife Darya Kuzio; Pyotr Zhiltsov; Serhiy Lyulin and Tadevos Manukian (the last of these in his absence). All appear to be charged with 'organizing an extremist organization' and some also of 'financing' such an 'organization'.
Dmitry (Dmytro) Barmakin
On 9 April 2022, a Russian court revoked the first and only acquittal in all of these five years of a Ukrainian Jehovah's Witness and sent Barmakin's 'case' back for retrial.
Viktor Kudinov (1969) and Serhiy Zhygalov (1971) were both detained on 24 August 2022. Both men were held in custody for two days and have since been under house arrest. Both are facing the more serious 'organizer' charges (under Article 282.3 § 1) although the 'investigator' accuses them only of having held meetings, religious addresses, of studying material and also something termed 'propaganda of religious ideas' with the use of the Internet.
Author: Halya Coynash
Source: khpg.org